| | | |
| --- | --- | --- |
| | PRODUCTS | |
12V 70mm household appliances DC reduction gearbox
Model No. : DSD-70SS3540
Trade Terms: EXW, FOB, CIF, CFR
Port: Shenzhen/Hong Kong
Payment Terms: T/T, PayPal
Minimum Order Quantity: 1000pcs
Typical applications: Labal printers、auto shutter、automatic stabilized voltage supply、grill、oven、cleaning machine、garbage disposers、household appliances、slot machines、money detector、 automatic actuator、coffee machine、towel disposal、lighting、coin refund devices、peristaltic pump....


12V 70mm household appliances DC reduction gearbox

Drawing (mm)

Specifications

Specifications below are for reference only. Contact us for more.

Model Number
Rated Volt.
No Load
At Max Efficiency
Stall
Speed
Current
Speed
Current
Torque
Power
Current
Torque
rpm
mA
rpm
mA
Kgf.cm
W
mA
Kgf.cm
DSD-70SS35400129500-563K
12V
16
340
11
1320
31
3.5
2800
128
Remark: 1 Kgf.cm

≈

0.098 N.m

≈

14 oz.in 1 mm

≈

0.039 in

What a Model Number Tells You?

We follow some rules to create each model number. A model number would tell you a lot of useful messages. Here is a sample.

So here we can learn that it is a 37mm Round Spur gear motor, 12V driving motor #555, no load input speed 6000rpm and reduction ratio 100:1. Hey, what about output speed? You need to do a little calculation. Input speed 6000rpm ÷reduction ratio 100 = 60rpm.

Technical Data of Gearbox

| | | | |
| --- | --- | --- | --- |
| Reduction Stage | 3 | 4 | 5 |
| Reduction Ratio | 54K, 73K | 217K, 293K | 564K, 763K |
| Length of Gearbox "L" mm | 15 | 15 | 15 |
| Gearbox Efficiency | 73% | 65% | 59% |

Technical Data of Motor

Motor model
Rated Volt.
No load
Load
Stall
Current
Speed
Current
Speed
Torque
power
Torque
Current
V
mA
r/min
mA
r/min
gf.cm
W
gf.cm
mA
DSD-35400124500
12
≤50
4500
≤420
3600
96
3.62
≥410
≥1790
DSD-35400126000
12
≤59
6000
≤513
5100
100
5.34
≥430
≥2180
DSD-35400244500
24
≤45
4500
≤215
3600
97
3.66
≥410
≥910
DSD-35400246000
24
≤42
6000
≤305
4800
110
5.5
≥470
≥1300
DSD-35400247000
24
≤38
7000
≤411
5100
115
6.14
≥490
≥1750

DIY with Your Gear Motor

With the Technical Data of Gearbox and Technical Data of Motor, now you are ready to DIY with your gear motor. Follow the steps here.

Q: Can you make a motor with custom specifications?

A: Yes, actually that is what we do most of the time.

Q: What is delivery time of samples?

Q:

What is delivery time of mass production?

Q: What is the MOQ (minimum order quantity)?

A: You can find it in the front of the product pages.

Q: Do you have motors in stock?

A: No, we don't. All motors are made with orders.

Q: How much does a motor cost?

A: Please send us an inquiry and tell us exactly what you are looking for.

Q: Do you have quality control?

A: Yes, we have a professional QC team.

Q: Are you a real factory?

A: a) We prefer PayPal transfer for samples and small amount of money. b) Bank transfer for large amount of money. Regular payment terms: 30% deposit, balance before shipment / against shipping documents.

Q: How do you handle shipment?

A: We recommend DHL Express for samples and small quantities. It is very fast, safe and relatively cheap. b) We arrange shipment by sea and by air and go with FOB/CIF/CFR terms for large quantities.

Q: What do you need to know if I need a recommendation on motor?

A: Normally we need to know dimensions, rated voltage, speed at load/no load, torque at load/stall. i.e. a motor with diameter 37mm, 12V, 100rpm and 2Kgf.cm at load.

Q: Can I ask you for help if I know nothing about motor?

A: Yes, our pleasure. We are nice people with big hearts.

A: Yes, please call the international sales manager. He's very good at English.

Available on 9:00 a.m. ~ 10:00 p.m. China time

Contact infromation:

, AMILY: inherit; BORDER-RIGHT-WIDTH: 1px; FLOAT: none; FONT-WEIGHT: 400; COLOR: rgb(0,0,0); PADDING-BOTTOM: 1px; PADDING-TOP: 1px; PADDING-LEFT: 1px; MARGIN-LEFT: 0px; BORDER-LEFT: rgb(204,204,204) 1px solid; MARGIN-TOP: 0px; BORDER-RIGHT-COLOR: rgb(204,204,204); PADDING-RIGHT: 1px; MARGIN-RIGHT: 0px; font-stretch: inherit; BORDER-BOTT: rgb(204,204,204) 1px solid">r/min
mA
r/min
gf.cm
W
gf.cm
mA
DSD-35400124500
12
≤50
4500
≤420
3600
96
3.62
≥410
≥1790
DSD-35400126000
12
≤59
6000
≤513
5100
100
5.34
≥430
≥2180
DSD-35400244500
24
≤45
4500
≤215
3600
97
3.66
≥410
≥910
DSD-35400246000
24
≤42
6000
≤305
4800
110
5.5
≥470
≥1300
DSD-35400247000
24
≤38
7000
≤411
5100
115
6.14
≥490
≥1750

DIY with Your Gear Motor

With the Technical Data of Gearbox and Technical Data of Motor, now you are ready to DIY with your gear motor. Follow the steps here.

Q: Can you make a motor with custom specifications?

A: Yes, actually that is what we do most of the time.

Q: What is delivery time of samples?

Q:

What is delivery time of mass production?

Q: What is the MOQ (minimum order quantity)?

A: You can find it in the front of the product pages.

Q: Do you have motors in stock?

A: No, we don't. All motors are made with orders.

Q: How much does a motor cost?

A: Please send us an inquiry and tell us exactly what you are looking for.

Q: Do you have quality control?

A: Yes, we have a professional QC team.

Q: Are you a real factory?

A: a) We prefer PayPal transfer for samples and small amount of money. b) Bank transfer for large amount of money. Regular payment terms: 30% deposit, balance before shipment / against shipping documents.

Q: How do you handle shipment?

A: We recommend DHL Express for samples and small quantities. It is very fast, safe and relatively cheap. b) We arrange shipment by sea and by air and go with FOB/CIF/CFR terms for large quantities.

Q: What do you need to know if I need a recommendation on motor?

A: Normally we need to know dimensions, rated voltage, speed at load/no load, torque at load/stall. i.e. a motor with diameter 37mm, 12V, 100rpm and 2Kgf.cm at load.

Q: Can I ask you for help if I know nothing about motor?

A: Yes, our pleasure. We are nice people with big hearts.

A: Yes, please call the international sales manager. He's very good at English.

Available on 9:00 a.m. ~ 10:00 p.m. China time

Contact infromation:

, AMILY: inherit; BORDER-RIGHT-WIDTH: 1px; FLOAT: none; FONT-WEIGHT: 400; COLOR: rgb(0,0,0); PADDING-BOTTOM: 1px; PADDING-TOP: 1px; PADDING-LEFT: 1px; MARGIN-LEFT: 0px; BORDER-LEFT: rgb(204,204,204) 1px solid; MARGIN-TOP: 0px; BORDER-RIGHT-COLOR: rgb(204,204,204); PADDING-RIGHT: 1px; MARGIN-RIGHT: 0px; font-stretch: inherit; BORDER-BOTT: rgb(204,204,204) 1px solid">r/min

mA
r/min
gf.cm
W
gf.cm
mA
DSD-35400124500
12
≤50
4500
≤420
3600
96
3.62
≥410
≥1790
DSD-35400126000
12
≤59
6000
≤513
5100
100
5.34
≥430
≥2180
DSD-35400244500
24
≤45
4500
≤215
3600
97
3.66
≥410
≥910
DSD-35400246000
24
≤42
6000
≤305
4800
110
5.5
≥470
≥1300
DSD-35400247000
24
≤38
7000
≤411
5100
115
6.14
≥490
≥1750
DIY with Your Gear Motor
With the Technical Data of Gearbox and Technical Data of Motor, now you are ready to DIY with your gear motor. Follow the steps here.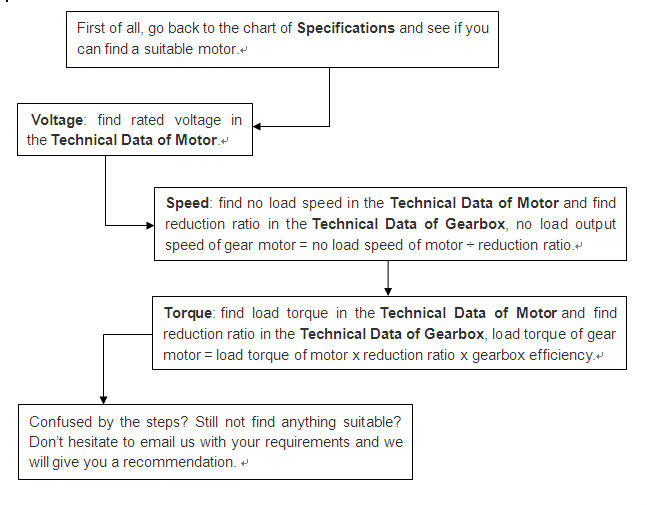 Q: Can you make a motor with custom specifications?
A: Yes, actually that is what we do most of the time.
Q: What is delivery time of samples?
Q:
What is delivery time of mass production?
Q: What is the MOQ (minimum order quantity)?
A: You can find it in the front of the product pages.
Q: Do you have motors in stock?
A: No, we don't. All motors are made with orders.
Q: How much does a motor cost?
A: Please send us an inquiry and tell us exactly what you are looking for.
Q: Do you have quality control?
A: Yes, we have a professional QC team.
Q: Are you a real factory?
A: a) We prefer PayPal transfer for samples and small amount of money. b) Bank transfer for large amount of money. Regular payment terms: 30% deposit, balance before shipment / against shipping documents.
Q: How do you handle shipment?
A: We recommend DHL Express for samples and small quantities. It is very fast, safe and relatively cheap. b) We arrange shipment by sea and by air and go with FOB/CIF/CFR terms for large quantities.
Q: What do you need to know if I need a recommendation on motor?
A: Normally we need to know dimensions, rated voltage, speed at load/no load, torque at load/stall. i.e. a motor with diameter 37mm, 12V, 100rpm and 2Kgf.cm at load.
Q: Can I ask you for help if I know nothing about motor?
A: Yes, our pleasure. We are nice people with big hearts.
A: Yes, please call the international sales manager. He's very good at English.
Available on 9:00 a.m. ~ 10:00 p.m. China time
Contact infromation: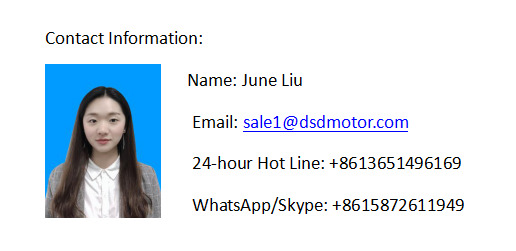 , AMILY: inherit; BORDER-RIGHT-WIDTH: 1px; FLOAT: none; FONT-WEIGHT: 400; COLOR: rgb(0,0,0); PADDING-BOTTOM: 1px; PADDING-TOP: 1px; PADDING-LEFT: 1px; MARGIN-LEFT: 0px; BORDER-LEFT: rgb(204,204,204) 1px solid; MARGIN-TOP: 0px; BORDER-RIGHT-COLOR: rgb(204,204,204); PADDING-RIGHT: 1px; MARGIN-RIGHT: 0px; font-stretch: inherit; BORDER-BOTT: rgb(204,204,204) 1px solid">r/min
mA
r/min
gf.cm
W
gf.cm
mA